Adare Country Pursuits provides a range of exhilarating outdoor activities including Falconry, Archery and Gundog Training on the beautiful grounds of Adare Manor Hotel and Golf Resort.
These historic activities have been an important part of Ireland's rich history for centuries and we're committed to keeping these noble pursuits alive for generations to come.
We deliver private sessions for individuals, families or larger groups tailored specifically to your needs.
Falconry Experience
Imagine the thrill of being up close to some of the world's most majestic birds of prey!
You will have the undivided attention of one of our resident Falconers who will give you an insight into the history and tradition of Falconry. You will get to meet a selected group of raptors from our collection. Owls are always a firm favourite with children and adults alike. Falcons are the fastest species of animal in the world, while hawks are highly interactive and very social raptors.
You will experience the magic of flying one of these awe-inspiring birds freely to the glove, as you walk through the magnificent walled garden and surrounding woods. We will endeavor to have at least one of our eagles on your display. You may even get to see the eagle flyng – a truly magical experience. It could be our Juvenile Female American Bald Eagle, or our magnificent male Golden Eagle, or perhaps our adorable Steppe Eagle.
You'll also have many opportunities to capture the moments on camera during your display.
Archery – Static and Moving
Historically, archery has been used for hunting and combat. Nowadays, it's mainly a competitive sport and recreational activity. Our archery sessions take place in the beautiful walled garden. You will experience the exhilaration of shooting a modern style recurve bow with the option of testing your skills with a medieval-style Longbow, exquisitely handmade to traditional standards. Led by our team of friendly, experienced instructors, you will learn how to hold the bow and arrow and fire at a static target with the precision of an Olympian.
From introducing the core techniques to beginners, to honing the skills of even the most experienced archers, we'll pitch the session to your ability. We will always commence with static archery, this gives participants the opportunity to 'get their eye in'. We then increase the challenge with a variety of targets.
Whether you're a group of friends keen to try something a little different, golfers looking for a break from the clubs, or a corporate team looking for a fresh new challenge, this activity is sure to uncover your competitive edge.
Archery is suitable for children as long as they are able to hold a bow – no prior experience is required. The minimum number of participants for archery is two. Just contact us to make a reservation.
Moving Archery
Our moving archery is unique to Adare Manor. With up to fifteen archers in line, shooting simultaneously at the moving target, this really ignites the competitive streak. Challenging, yet great fun too, it's the perfect activity for team building, corporate groups and families alike.
The Gundog School
Country Pursuits have added gundog training and demonstrations to our list of activities available on the resort. Adare Manor was once the home of a keepered Sporting Estate with a long tradition of country activities.
Using our gundogs, you will learn to handle trained  gundogs  with our trainer who has vast experience in training and handling gundogs making up many dogs to F.T.Ch. level. You will get the opportunity to see dogs at differing levels of training incorporating  obedience, agility, marking, water work and ability to work as part of a team of trained dogs.
The Team
Our team of talented people have a genuine passion for Country Pursuits. For many it's in their blood, coming from families who have practised the ancient sports of Archery and Falconry and Dog training for generations.
The dedication and commitment to their craft means that you will receive an immensely personal experience, tailored  just for you.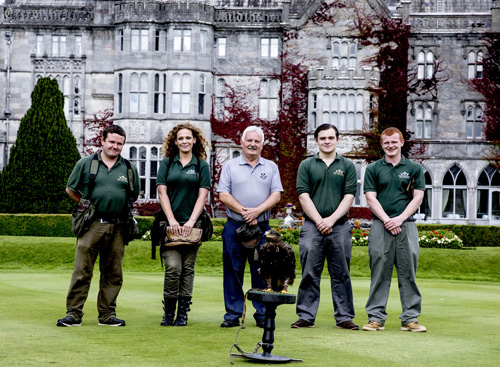 Liam, Susan, Willie, Jake and Damien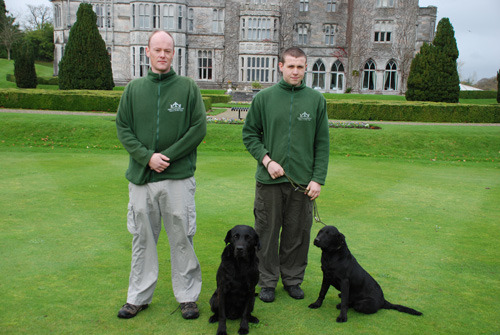 Neill and Shane